---
What is Crimson Skies | Alternate History | World of 1938
Corporations around the World | Air Militia | Villains
---
World of 1938

For a better overview take a look on the world of 1938
with this zoomable and scrollable Flash 5 Map!

>> To the Map (Warning Size: 500 KByte!)


Currencies

While in North America the U.S. Dollar is still a legal and offical currency, the British Pound is worldwide to most often used currency. The British Empire and all Commonwealth Nations use it as local currency.

Other noteworthy currencies are the French Franc, the German Goldmark and the Yen, last one is a common currency in Asia.

Also Gold has become a payment instrument again, and in remote regions bartering is the only way to get tools or food.
---
Nations of the shattered United States and Canada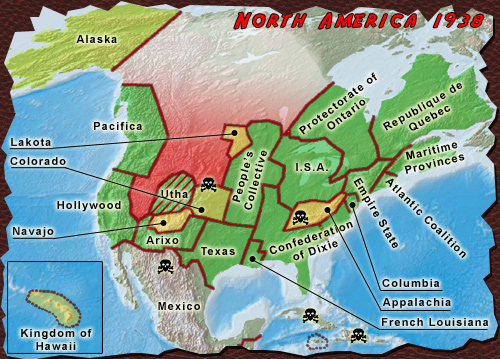 See which nations arose from the ashes of North America.



Alaska




Founded:
Capital:
Formerly:
Booze Status:
Leader:
Government:
Principal Industries:
Allies:
Enemies:
Appalachia

Founded:
Capital:
Formerly:
Booze Status:
Leader:
Government:
Principal Industries:
Allies:
Enemies:
Arixo

Founded:
Capital:
Formerly:
Booze Status:
Leader:
Government:
Principal Industries:
Allies:
Enemies:
Atlantic Coalition

Founded:
Capital:
Formerly:
Booze Status:
Leader:
Government:
Principal Industries:
Allies:
Enemies:
Free Colorado

Founded:
Capital:
Formerly:
Booze Status:
Leader:
Government:
Principal Industries:
Allies:
Enemies:
Columbia

Founded:
Capital:
Formerly:
Booze Status:
Leader:
Government:
Principal Industries:
Allies:
Enemies:
Confederation of Dixie and the Outer Banks

Founded:
Capital:
Formerly:
Booze Status:
Leader:
Government:
Principal Industries:
Allies:
Enemies:
Empire State

Founded:
Capital:
Formerly:
Booze Status:
Leader:
Government:
Principal Industries:
Allies:
Enemies:
Kingdom of Hawaii

Founded:
Capital:
Formerly:
Booze Status:
Leader:
Government:
Principal Industries:
Allies:
Enemies:
Nation of Hollywood

Founded:
Capital:
Formerly:
Booze Status:
Leader:
Government:
Principal Industries:
Allies:
Enemies:
Industrial States of America

Founded:
Capital:
Formerly:
Booze Status:
Leader:
Government:
Principal Industries:
Allies:
Enemies:
Lakota

Founded:
Capital:
Formerly:
Booze Status:
Leader:
Government:
Principal Industries:
Allies:
Enemies:
French Louisiana

Founded:
Capital:
Formerly:
Booze Status:
Leader:
Government:
Principal Industries:
Allies:
Enemies:
Maritime Provinces

Founded:
Capital:
Formerly:
Booze Status:
Leader:
Government:
Principal Industries:
Allies:
Enemies:
Mexico

Founded:
Capital:
Formerly:
Booze Status:
Leader:
Government:
Principal Industries:
Allies:
Enemies:
Navajo Nation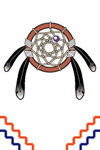 Founded:
Capital:
Formerly:
Booze Status:
Leader:
Government:
Principal Industries:
Allies:
Enemies:
Protectorate of Ontario

Founded:
Capital:
Formerly:
Booze Status:
Leader:
Government:
Principal Industries:
Allies:
Enemies:
Pacifica

Founded:
Capital:
Formerly:
Booze Status:
Leader:
Government:
Principal Industries:
Allies:
Enemies:
Peoples Collective

Founded:
Capital:
Formerly:
Booze Status:
Leader:
Government:
Principal Industries:
Allies:
Enemies:
Republique de Quebec

Founded:
Capital:
Formerly:
Booze Status:
Leader:
Government:
Principal Industries:
Allies:
Enemies:
Republic of Texas

Founded:
Capital:
Formerly:
Booze Status:
Leader:
Government:
Principal Industries:
Allies:
Enemies:
Utha

Founded:
Capital:
Formerly:
Booze Status:
Leader:
Government:
Principal Industries:
Allies:
Enemies:
Disputed Western Territories
---
Nations of old World
British Empire and the Commonwealth

Capital:
Leader:
Government:
Principal Industries:
Allies:
Enemies:
France
German Empire
Italy
Spain
Russia
---
Nations of Asia and the South Pacific
Empire of Japan

Capital:
Leader:
Government:
Principal Industries:
Allies:
Enemies:
Kingdom of Siam
Capital:
Leader:
Government:
Principal Industries:
Allies:
Enemies:
Australia
Capital:
Leader:
Government:
Principal Industries:
Allies:
Enemies:
Nepal
Capital:
Leader:
Government:
Principal Industries:
Allies:
Enemies:
---
Nations of South America
---
Pirate Syndicates and Cities
Sky Heaven
Havanna Syndicate
Hispaniola Syndicate
Mexico Syndicate
Istanbul
Madagaskar
The Golden Triangle